Band monster and I had a wonderful time at the salon yesterday. Just a bit of history. I am a t-shirt and jeans kinda girl. I have gone in the past and had my hair cut and a full set of nails done. I understand a salon setting. This was Band monsters first time. We arrived on time. Unfortunately, the hairdresser was still with another customer. So we waited. But it was worth the wait. The girl was great! Band monsters hair was gorgeous. Then we had to wait for the nail tech. And again well worth the wait. She did the manicure first then the pedicure. She even waxed Band's eyebrows.... LOL! I almost fell out of the chair, when I saw the look on her face.... It really was priceless! Baptism by fire!!! All I can say is that she was so grown up and pretty. She had a blast at homecoming with all her friends. She is so looking forward to next year! I guess I need to start saving now.... LOL!
I would like to thank everyone for stopping by yesterday for the blog party! It was a ton of fun! And because I really did enjoy doing it I am going to be doing another one..... It is a Tea Party under the Halloween Moon. It sounds like so much fun. So I am inviting anyone who would like to attend to attend!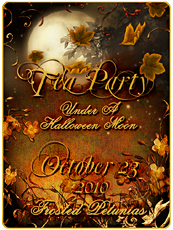 I finally got all the apples processed. I even wasted a crockpot full of apple butter because it just didn't cook right. I was so tired when I started it, I didn't plug it in. Then in the morning I found it unplugged and plugged it in. Then it cooked for to long. So what a friggin waste of time! I have 4 gallon bags in the fridge with apple sauce in the fridge. Tomorrow I will be making the carmel apple butter. And putting up the rest as sauce. So then all I have left is the potatoes. Grim bought me a french fry maker. One of the industrial ones. So what I am going to do is peel and then make them into fries then cut them up to can. Once they are done I think I am going to get a bushel of beans to can up.... Maybe, I don't know. I still have to pull out the garden. I was going to do that today. But to tired. I have a pork butt in the oven to make pulled pork out of. I also made brownies and the bread is baking as I type.
Tomorrow I need to wash off all the carrot and apple pie filliing jars. Then lable and put in the basement. I need to spend some time down there doing laundry and pulling out more jars to empty out. The canning that I need to do in the morning will be done before I work bingo. So while I'm canning I can wash out the other jars. I know that doesn't really make sense but I get it... LOL! One of these days the freezers will become a priority. I was able to get a lot of the stuff out of the freezer dried. There is still a lot that needs to be done. It is down to the mid 50's and 46 tonight. The garden is on it's last leg. I guess I keep hoping for an indian summer. I know wishful thinking. So there will soon be green tomatoes on every flat surface!