Like usual there is a ton of stuff to do and so little time to accomplish it! But I have decided that I need to take time and only deal with what is important to me. That way I don't get all stressed out over what I can't control. Well, at least I'm going to try... LOL!
First I want to let you all in on a little secret. I am going to be participating in a blog party on the 25th of September! Anyone is welcome to join the theme is "Practical Magic" by Alice Hoffman, either the book or the movie. If you wish to be part of this wonderful event then just click on the invitation below!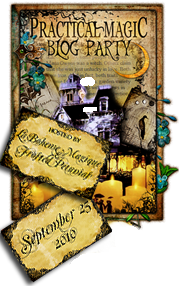 The next thing is I was able to use up the quart of cherries that I had in the freezer. I made black forest topping. It made 9 half pint jars. When I use it I plan on making a dark chocolate layer cake and using it between the layers. Then topping it with a dark chocolate. almond whipped cream. Sorry no pictures of it. Don't worry though, I still have strawberries and watermelon to turn into jelly!
Band season suddenly came upon us yesterday. A nasty message from a 16 year old been left on my phone. It was from a section leader wanted to be a show off and called to inform my band monster that if she didn't attend the next session she would be kicked out of the program. I had an appointment and she had to miss the first practice. So needless to say, I went in and spoke with the band director. He said that everything was fine and for us not to worry about the section leader. So it is officially Band season! 5 nights a week of running here and there.
This year is going to be really fun as the two youngest are going to be bowling on Saturday mornings. I know what am I thinking. The youngest two need to be active in something as well. And it might as well be inside, with potties, food and seating! YEAH BOWLING!!
I've got a roast in the oven. My family was going to revolt if I didn't get back to cooking. They hate eating out and that is what we have been doing the past couple of days. I'm right there with them, my poor tummy wants real food. So there is the roast, carrots, fresh potatoes and onions from garden. We will also have corn and a lettuce and tomato salad. YUMMMM!
I have to go and get the stawberries and watermelon juiced up for the jelly!
Gotta Run,
Yart